Good evening, ladies and gentlemen. I'm aware that it has been relatively silent here on the TI boards and pages, but this is a busy time of year for pretty much everybody, getting back on our feet after the Xmas rush, getting back to work, college, school etc. etc. etc. Despite that however, we have been getting plenty of work done where we can.





(Click to view these images in actual size)
I've been working on several bits and pieces during my busy schedule of working, bill-paying and sleeping (and the occasional eating), currenty have four WIP Multiplayer maps that will be finished pretty soon I hope. Lin Kuei Ominae, the Nod structure artist for Twisted Insurrection has lots of work in progress material (which will be shown publicly once complete), ErastusMercy has been working hard on some new voxels, Q45 is finalizing the GDI and Nod campaign and much more.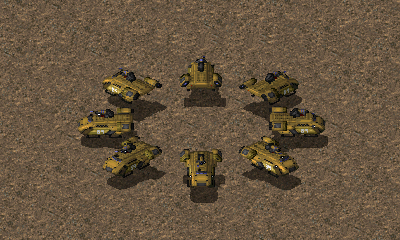 (The new GDI WASP A.P.C. Image by ErastusMercy)
The main reason for this post is that I would like to share with you the amount of progress that Public Beta 5 has been through since Public Beta 4's release just over a year ago. Our current changelog has a massive total of
1102 Changes
so far, and the number will be increasing ever more as we approach the release of Beta 5 later this year. Since the sheer size of the changelog and the amount of text that it contains, I can't post it here (it seems to break posts by cutting off half of the text), so
this is a direct link to the current Twisted Insurrection Beta 5 Changelog
.





(Click to view these images in actual size)
Happy reading, ladies and gentelmen, or if you'd rather not read it, the release isn't too far off (month of the release is still to be announced), there are just a few more things that we would like to get done first before we make it public. Finally, once the final Public Beta is out of the way, we can crack on with Twisted Insurrection 1.0. One final thing: If you missed the last Twisted Insurrection Live Stream (The Brotherhood of Nod Spotlight),
you can view it at any time here!
Hello ladies and gentlemen. If you're free Sunday evening, be sure to join myself (Aro) and Hecthor Doomhammer in the next Twisted Insurrection live stream this Sunday at
19:00 GMT (7PM)!



- February 09 2014 - 1900 GMT -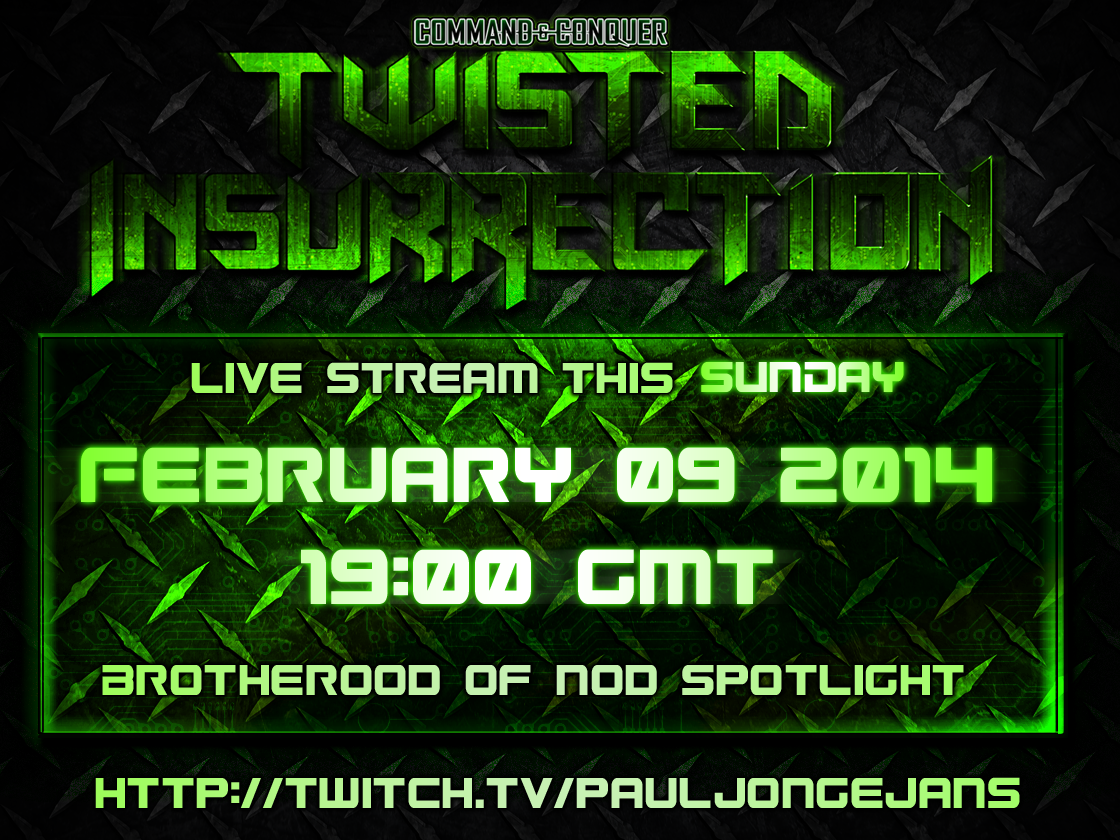 This stream will be a Brotherhood of Nod spotlight, we will be showcasing all of the new and old Nod features and abilities that will be introduced during Public Beta 5. Where I can, I will happily answer any questions that anybody has in regards to the next Public release and any of the latest features.
Follow
Hecthor Doomhammer's Twitch channel
for updates/reminders and to follow other popular C&C mods including Rise of the Reds, Red Resurrection, Attacque Supérior and Mental Omega.
http://www.twitch.tv/pauljongejans/
Hello, Ladies & Gentlemen! This is going to be a very brief announcement due-to my lack of time at the moment so I will get straight to the point: I would like to inform you all that Twisted Insurrection now has
an official page on Steam
.
This is very long overdue, but Twisted Insurrection will now be regularly updated over on Steam as well as our many other pages around the web! Steam is a great place to keep up with all of the latest updates and gives you a good opportunity to take advantage of the free Steam group chat function and to arrange games with other plays too, especially if you link the Twisted Insurrection launcher to your Steam Library!
So what are you waiting for? If you have a Steam account,
go and join our group!
This is just a post to wish all of our fans and followers a very Merry Xmas & Happy Holidays! I hope that the new year brings all of you lots of happiness and good times (and releases for your favourite games/mods).
This has been a fantastic year for the Twisted Insurrection team, despite the very bumpy couple of months during the first quarter, but the good always outweighs the bad. Many good times have been had and much progress has been made on the next release. I'm afraid Public Beta 5 isn't exactly going to be an Xmas present, but hopefully it'll be released much sooner than I've actually planned it to be (we have a big to-do-list).
Despite that however, I have recently been in contact with a famous and talented individual whom Command & Conquer/Westwood fans will be very familiar with, I can't make any promises just yet, but something very good may come of it after Xmas.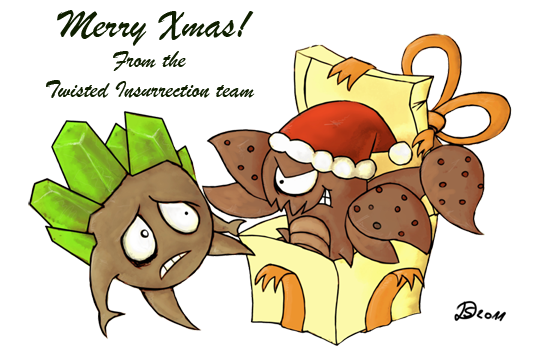 Happy Holidays, Ladies and Gentlemen. We hope you all have a great time!
It's the last day of ModDB's Mod of the Year 2013 voting!
As the year is drawing to a close, I've noticed that we lack any up-to-date gameplay videos, so I have threw this quick Public Beta 5 gameplay trailer together. This is the first (decent) official Twisted Insurrection game-play trailer. Please enjoy! And if you haven't already, please vote for us as Mod of the Year 2013!
http://www.moddb.com/events/2013-mod-of-the-year-awards/top100#vote10974
This is the first (decent) official Twisted Insurrection game-play trailer.
Twisted Insurrection features:
● Completely Standalone (No CD/TS Required)
● A new in-depth story-line
● Completely revamped graphics
● Over 40 new single-player campaign missions
● Over 100 new multi-player maps
● Smoothest ever online game-play
● Official CNCNet Support
● All New Units
● All New Structures
● Enhanced Skirmish and AI
● Custom cinematics
● An all new Original Soundtrack
Twisted Insurrection: Public Beta 5 release date to be announced.
Public Beta 4 download:
http://ti.ppmsite.com/?page=downloads
Music: Twisted Insurrection OST Volume 3 - Despair (Track 6)
Download Twisted Insurrection OST:
http://ti.ppmsite.com/?page=soundtrack
● Twisted Insurrection YouTube:
http://www.youtube.com/user/TwistedInsurrection
● Twisted Insurrection Forum:
http://ppmsite.com/forum/index.php?f=466
● Twisted Insurrection Facebook:
https://www.facebook.com/twistedinsurrection
● Twisted Insurrection Twitter:
http://twitter.com/TwistedIns
● Twisted Insurrection Website:
http://ti.ppmsite.com
● Twisted Insurrection Desura:
http://www.desura.com/mods/twisted-insurrection
● Twisted Insurrection ModDB:
http://moddb.com/mods/twisted-insurrection
Note: A lot of footage had to be cut form this trailer in order to prevent campaign spoilers.